Batak And Batak Pro Challenge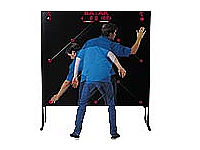 Originally designed as a sports training aid designed to improve hand eye co-ordination and reaction times, following numerous TV appearances and mainly due to its ease and flexibility of use and it became a firm favourite for corporate events.
There are numerous games available within the Batak system, however the most popular is Batak Challenge where the LED light 'targets' will light up in a random sequence and must be hit before the next target is illuminated. The object is to put out as many lights as possible in 60 seconds. Can you beat Jenson Button's record of 114 in one minute?
The Batak Challenge is continuously proving itself to be very suitable for a wide range of applications such as team building, road shows, exhibitions and much more. If required the whole game can easily be branded to promote your company or product
Requirements
Power Requirements: 1 x 13 Amp Socket
Equipment Dimensions: 2080(W) x 950(D) x 1950(H)
Branding Options: YES
Access: Fine
Related Activities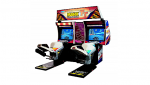 The worlds most hazardous motorcycle competition. The Ultimate CG motorcycle race simulation game.
Our latest Formula 1 Car can be used as a showcar, simulator or even for photo opportunities, linked to the latest Sony dye-sublimation printers, giving guests an instant souvenir of their time behind the wheel of an F1 Car.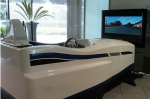 Purpose designed with fully adjustable seat & steering making them easy to get in and out of. Ideal as an exhibition attraction or for showroom launches, corporate events and parties.