Sega Rally 2
The ultimate driving challenge.
Sega Rally 2 is one of the all time classic Sega Video and Arcade Games.
Extreme head to head rally action, race your friends or college's across Mountain, Desert
and Snow terrain and earn extra laps by reaching checkpoints.
The Game contains two modes, Practice and Championship:
In Practice mode you race against any linked drivers and upto eight other cars across one
of the four selectable rally circuits.
In Championship mode you race a set number of laps across each circuit with each lap becoming progressively more difficult. You compete against 14 other cars either linked drivers or computer
controlled in a bid to become the ultimate rally champion.
Features
Linkable up to 8 players
Practice and championship modes
Requirements
Power Requirements: 1 x 13 amp Socket
Equipment Dimensions: 1500(D) 2200(W) x 1950(H)
Access: Level Access access required (no stairs)
Related Activities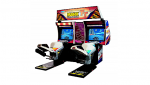 The worlds most hazardous motorcycle competition. The Ultimate CG motorcycle race simulation game.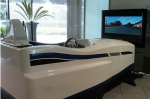 Purpose designed with fully adjustable seat & steering making them easy to get in and out of. Ideal as an exhibition attraction or for showroom launches, corporate events and parties.
Our latest Formula 1 Car can be used as a showcar, simulator or even for photo opportunities, linked to the latest Sony dye-sublimation printers, giving guests an instant souvenir of their time behind the wheel of an F1 Car.